About Others' Works
The Unbearable Earnestness of Benny
Benny Nemerofsky Ramsay exhibition review, Plug In ICA
Canadian Art Magazine, Winter 2004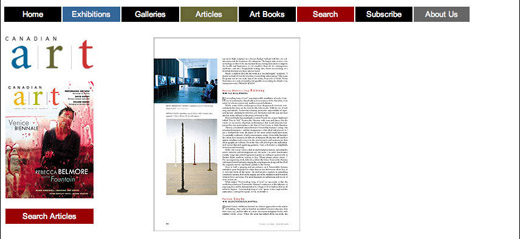 Rewind: Benny Nemerofsky Ramsay
"Neverending Song of Love is an impeccable installation of works. A survey of performance based videos, it is evidence of the discipline of an artist for whom control and madness seem bedmates.
While some of the earlier pieces lean dangerously towards over-sentimentality, they set the tone for the later works. With his use of self, song and subtitle, Neverofsky Ramsay proves the impossibility of representing love: anything besides love acts themselves fails the way any hard attempt at the sublime or the poetic is bound to fail.
From an Elizabethan madrigal to a 1960s French love song to Madonna's ballad "Live to Tell," Nemerofsky Ramsay, with song an dance, lets the viewer in on a series of private performances that recall other motion-picture boy-toy performances, like that of Tom Cruise in Risky Business.
There is a wonderful tension between Nemerofsky Ramsay's acting - his actual performances - and the transparency of his effort and process. In I am a Boyband the boys, all played by the artist, subtly mark their spots. Occasionally, a glimmer of self-consciousness crosses Nemerofsky Ramsay's face when, for a moment, he falls out of character. By the time all four boys appear simultaneously onscreen, the synchronicity and variances in their choreography are brilliant. From the first collective bop to the individualized viewer-directed signifying gestures, I am a Boyband is delightfully humorous and revealing.
With Lyric (2004) comes a shift in emotional presentation, indicating the artist's maturity and development over the years. The artist downloaded popular songs and editied fragments together according to 34 keywords or themes: flight, madness, waiting, crying, "Please, please, please, please". The accompanying work, Libretto, collects the lyrics. Nemerofsky Ramsay videotaped himself privately singing the song fragments along with his iPod, the original versions only barely audible to the viewer.
Lyric is both a purging and an embrace, as if Nemerofsky Ramsay embarked upon the project to either disavow fancirul notions about love or to welcome them all the more. His performance registers as something completely earnest, both in his singing and in his exhaustion and boredom between lyrics and songs. The artist luxuriates in melodrama and his use of irony is spot-on.
What makes "Neverending Song of Love" so successful is that the work hovers between Nemerofsky Ramsay's confession of the influence of pop-song love and his determination to critique it. It is a balance that we all suffer by degrees. "Neverend Song of Love" speaks to the tough and the vulnerable - with perfect poise."