melitzah | 2000-2003 | installation, sound, and web database |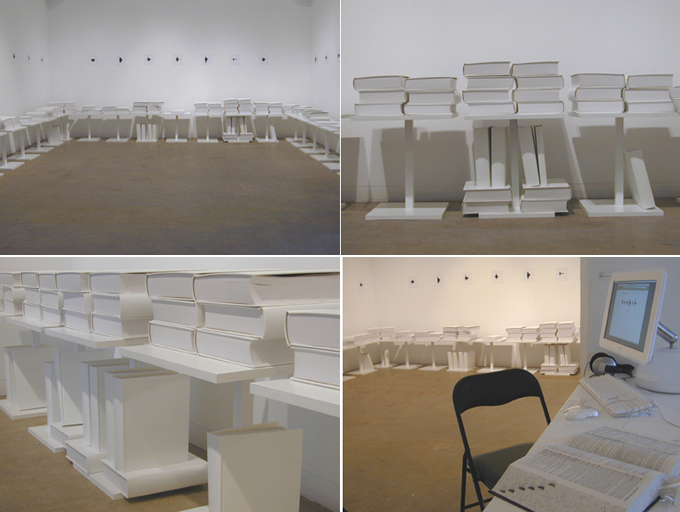 Installation at Plug In ICA, Winnipg MB.
melitzah deals with the polysemic nature of language, interpersonal communication, and personal discipline. melitzah hovers between a set of personal questions about legibility, interpretation, expression and understanding, and a semi lexicographic archival enterprise.
melitzah [the Hebrew word meaning utterance: an uninterrupted chain of spoken or written words not necessarily corresponding to a single or complete grammatical unit] is comprised of an audio recording of my voice reading the Canadian Oxford Dictionary, and a visual archive containing the waveforms for the words of the dictionary. I am curious about the waveforms as visual representations of the auditory, which are linguistic representations of the cognitive. melitzah presents an empirically more accurate visual representation of the English language which is nonetheless illegible, thus making analogous the failures of everyday communication with the abstraction of language into waveform.
Early documentation of the work as installed at Plug In ICA, Winnipeg MB, 2003.
Parts of this work were completed with the assistance of The Banff Centre, the Saskatchewan Arts Board, the Canada Council and Video Verité. Please view the acknowledgements section of the live site for a complete listing. The live site doesn't work anymore.
The first exhibition of this work took place at Neutral Ground Gallery in Regina, Saskatchewan in June 2002. The work was shown at Plug In ICA, Winnipeg, in Winter 2003, and at the COSIGN conference in fall, 2003. The web portion of the work was included in the Images Festival Images Off Screen program 2004, curated by Caitlin Fisher. It was featured in spring 2004 at Year Zero One.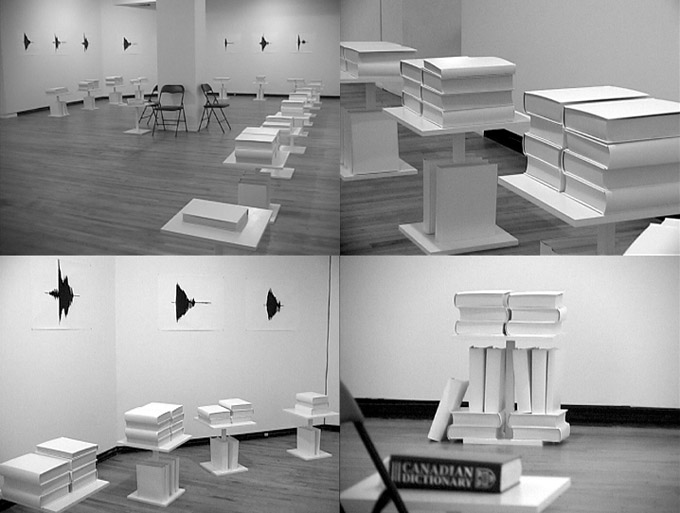 Installation at Neutral Ground, Regina SK.