Thirtieth Year by Day | 2000-2003 | database collection installation |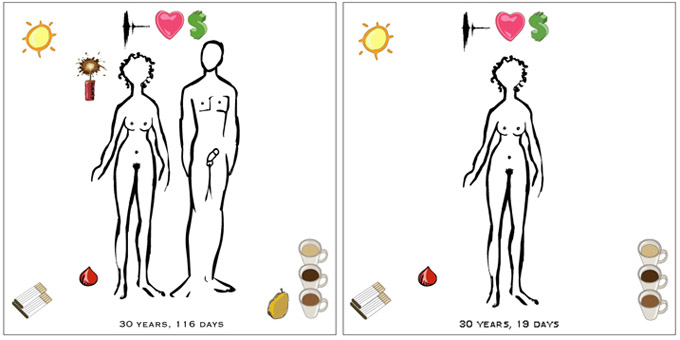 two sample days; 5x5 mounted chromogenic prints

Thirtieth Year by Day was designed to collect a defined set of personal data over the span of one year, commencing with my thirtieth birthday (December 28, 2000). I created a submittable web form to collect that data, generating one per day of the year. As a single, career-driven woman in her early thirties, I found myself at odds with common concepts of Romance. Continuously balancing a sense of independence against mt desire for companionship and romantic love, this so-called modern woman was determined to convince herself of the mythology of the "knight in shining armour."
This work was completed with the assistance of Ilana Schwartz, who was hired to create the smart illustrations used to visualize the collected data. The work was first exhibited at The Mendel Art Gallery in the exhibition Daring Confessions: Romance and the Modern Day Woman curated by Alexandra Stratulat, in September 2003.
click here to view the exhibition essay by curator Alexandra Badzak (nee Stratulat)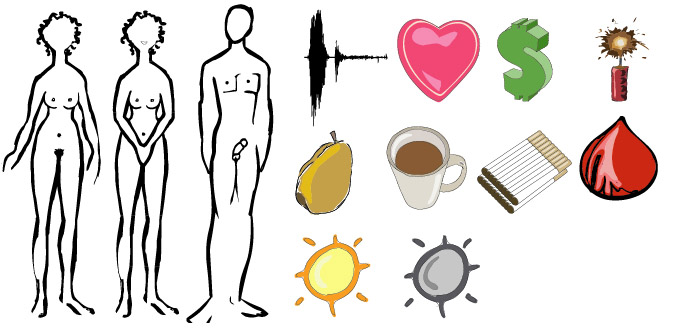 Icons appear on days when: I masturbated or not; I had an intimate encounter; conversation about art, love or money took place; I ate well; I drank or smoked a lot or a little; I was feeling more happy than anxious, or more anxious than happy; I had an orgasm or menstruated.
Installation views at the Mendel Art Gallery, Saskatoon SK