Projects
[2023]
[2022]
[2020]
[2019]
[2018]
[2017]
[2016]
[2015]
[2014]
[2011]
[2010]
[2009]
[2008]
[2007]
[2006]
[2005]
[2004]
[2003]
[2002]
[2000]
[1999]
[1998]
Onion Joy | 1999 | live performance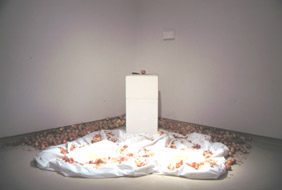 Onion Joy, (for Carolee Schneemann).
5 days of performance, Snelgrove Gallery, Saskatoon.
I collected my body weight in yellow cooking onions, through invitation for donations, and arranged the onions around a chopping block in the gallery. I aimed to chop onions uninterrupted for one hour each day for five days.
The performance permitted me the chance to cry in public.