An overwintering program of looping artworks, screened periodically from about sunset starting November 22 through spring 2022.
University of Regina campus, my studio window, visible from the plant conservatory and outdoor path to the Academic Green, between the Education and Riddell Centre buildings at ground level..

Week Ten - March 5...
Library Research Collective
Sketches from two field trips, 2022-2023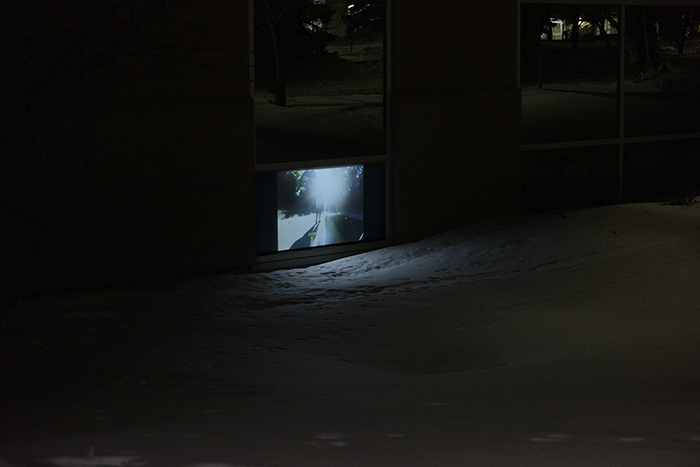 Since Fall 2021, the Library Research Collective (Risa Horowitz, Dave Kemp, Alex Kurina, and Pierre Tremblay) have been meeting monthly to think through possibilities and implications for immersive environments in art and commerce. We began with a visit to the Immersive Klimt installation in Toronto, which stimulated our discussions about the aesthetic, affective, consumerist, and technological strengths and weaknesses of what producers aimed to present as a blockbuster experience. The Library Research Collective staged two field trips in Summer 2022.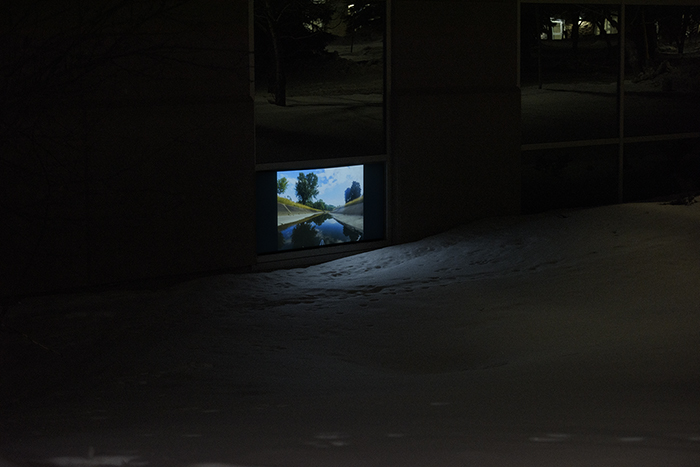 In June, we paddled a section of Black Creek starting at Jane Street and Highway 401, to Home Smith Park at Dundas West. Over eight hours, we made our way through the concrete channel and its multiple breaks into the less obviously engineered river, variously portaging across low water beyond Black Creek's connection with a channel of the Humber River until just before its drop at Old Dundas Street. Our canoe trip was an absurd gesture of familiarization in paddling Black Creek, which is one of many 'lost' or disappearing waterways in the Greater Toronto area, and which has been drastically altered and transformed from a natural watershed and ancient transportation route into a utilitarian and polluted concrete runoff basin.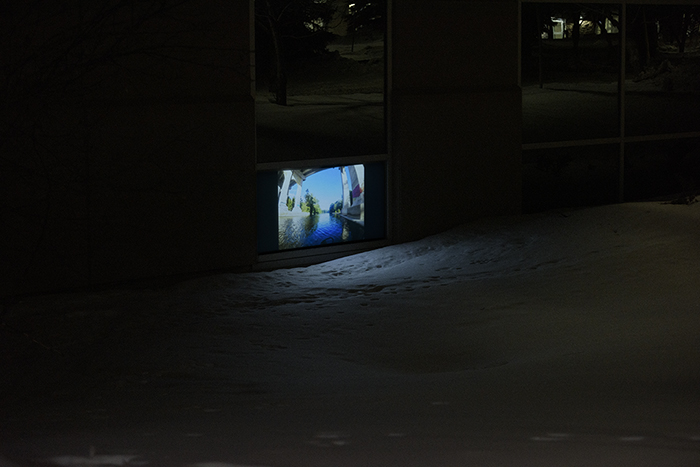 In August, we retreated to a quiet lake in the Kawarthas to further our conversations on land and on water, paddling the lake and its small bays, and swimming across the lake.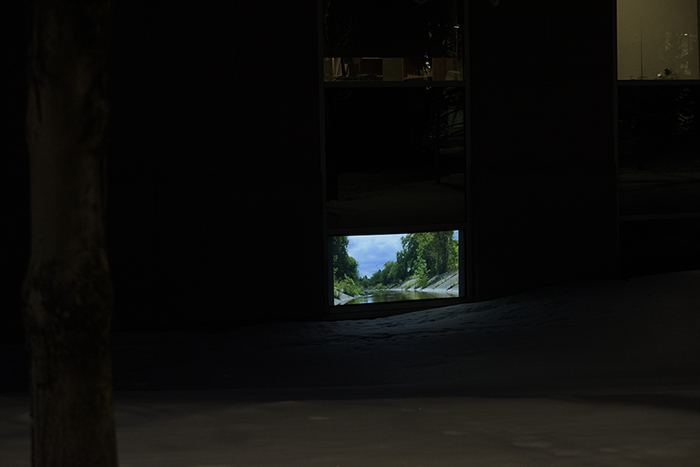 For A Small and Quiet Winter Screen, we present sketch work we have collected and are using as source materials for an immersive installation we are preparing to present in April 2023 at InterAccess Media Arts Centre in Toronto. There Dr. Horowitz will lead a panel discussion in partnership with I/A on immersivity and landscape as techniques, tropes, mediums or methods, as part of her University of Regina Humanities Research Institute Fellowship project Urban Erratics, Piles of Things, and Other Landscape Observations.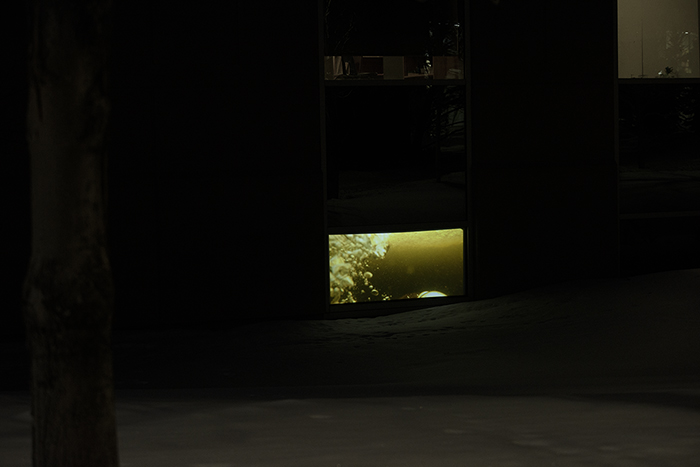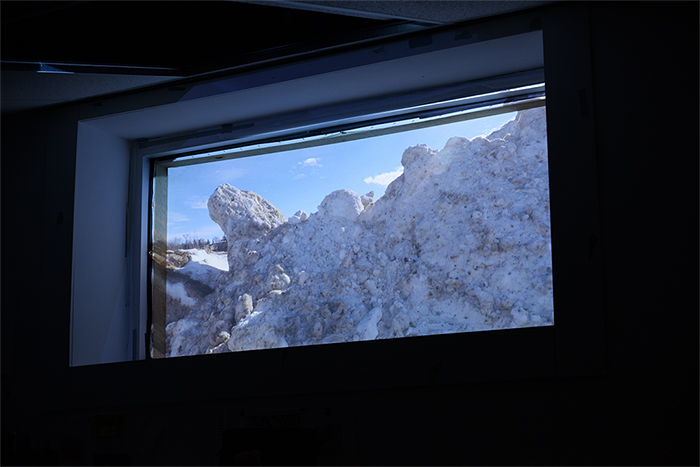 Risa Horowitz is Associate Professor in the Department of Visual Arts, Faculty of Media, Art, and Performance at the University of Regina. Blurring boundaries between expert-amateur, hobby-work, and leisure-productivity, much of her work involves collecting and durational practices that pay attention to time and its representation. Horowitz has exhibited widely in Canada and abroad, with works held in public and private collections. She is currently a Research Fellow with the University of Regina Humanities Research Institute.
Dave Kemp is a visual artist whose practice looks at the intersections and interactions between art, science and technology: particularly at how these fields shape our perception and understanding of the world. His artworks have been exhibited widely at venues such as at the McIntosh Gallery, The Agnes Etherington Art Centre, The Art Gallery of Mississauga, The Ontario Science Centre, and TIFF Bell Lightbox. His works are also included in the permanent collections of the Agnes Etherington Art Centre, The Glenhyrst Gallery, and the Canada Council Art Bank.
Dave obtained his PhD in Art and Visual Culture from the University of Western Ontario and is a graduate from the Master of Visual Studies program at the University of Toronto where he also completed the Collaborative Program in Knowledge Media Design. Prior to this, he earned an Image Arts (photography) BFA from Ryerson University and his BScE in Mechanical Engineering at Queen's University. He currently works as an Associate Professor in the School of Image Arts at Toronto Metropolitan University (formerly Ryerson University).
Alex Kurina is an award-winning designer and media artist from Toronto, Canada. He holds a BFA from Ryerson University's New Media program where he currently teaches. He has worked for a number of international commercial clients in various creative capacities and has work exhibited at the Montreal Museum of Fine Art, InterAccess (Toronto), The Guggenheim (New York) and Eyebeam (New York).
Interdisciplinary artist Pierre Tremblay came to the School of Image Arts at Toronto Metropolitan University as an Associate Professor after twelve years in Paris where his work can be found in the collections of the Musée Carnavalet, Bibliothèque nationale, Musée Rodin and the Louise Bourgeois Archives, The Easton Foundation, New York, USA. His artistic practice, combining new technologies and video, questions the world in flux, how we see and perceive. Exhibitions of recent note include Meta Incognita at The Photographers' Gallery = The Wall, London, England, Dans la nuit des images, at the Grand Palais, Paris along with numerous festival screenings internationally. In his role at TMU, Tremblay has facilitated conferences and edited books that have brought scholars and artists from Ontario, Quebec and France together for cross-cultural exchange on a variety of new media topics.
https://www.pierrelouistremblay.com
A Small and Quiet Winter Screen is presented with the assistance of Visual Arts Technician Jesse Goddard, Theatre and Scene Shop Technician Mason Roth, Theatre Instructor William Hales, Theatre Wardrobe Technician Cathy Mearns, and Jeff Meldrum.