An overwintering program of looping artworks, screened periodically from about sunset starting November 22 through spring 2022.
University of Regina campus, my studio window, visible from the plant conservatory and outdoor path to the Academic Green, between the Education and Riddell Centre buildings at ground level..

Hoop Dancers (2013, 5:40), by Professor David Garneau: director, producer, writer.
Peter Brass: camera and editor.
Teddy Bison, Brett Friday, Sincere Toto, Matthew Whitecloud: dancers.
Rodger Ross: production manager.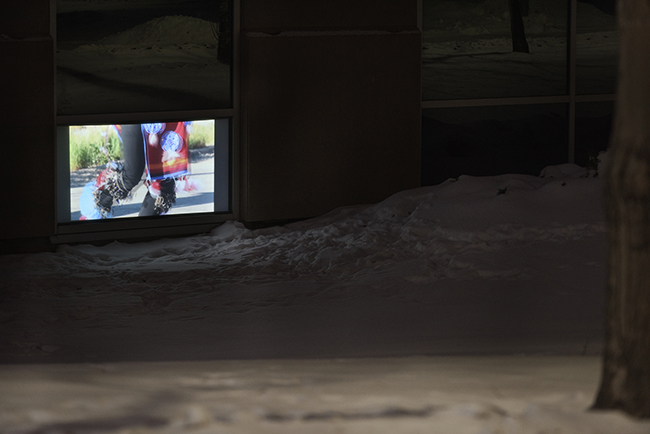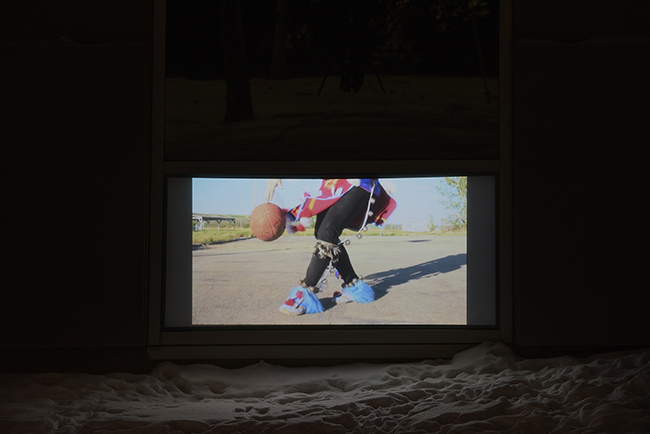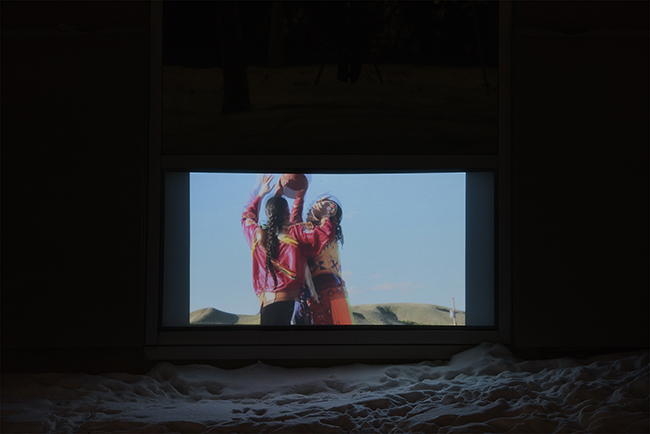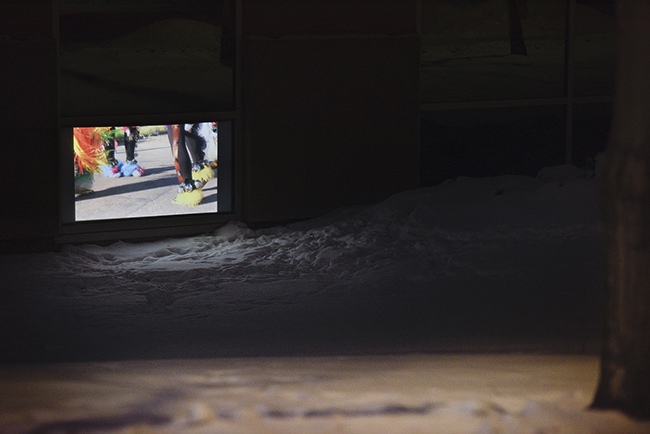 Hoop Dancers is a silent video featuring four young men in powwow regalia playing pick-up basketball. The camera work and editing emphasizes the abstract beauty of the regalia and the rhythms that are common to dance and sport. The video also shows young Aboriginal men engaging the contemporary world while also enjoying traditional cultural practices. It is a celebration of athleticism, cultural continuity, adaptation and beauty. Hoop Dancers was filmed at Standing Buffalo reserve, SK, in the summer of 2013.
David Garneau (Métis) is Head of Visual Arts at the University of Regina. He is a painter, curator and critical art writer interested in creative expressions of Indigenous contemporary ways of being. Garneau curated Kahwatsiretátie: The Contemporary Native Art Biennial (Montreal, 2020) with assistance from Faye Mullen and rudi aker; co-curated, with Kathleen Ash Milby, Transformer: Native Art in Light and Sound, National Museum of the American Indian, New York (2017); With Secrecy and Despatch, with Tess Allas, an international exhibition about massacres of Indigenous people, and memorialization, for the Campbelltown Art Centre, Sydney, Australia (2016); and Moving Forward, Never Forgetting, with Michelle LaVallee, an exhibition concerning the legacies of Indian Residential Schools, other forms of aggressive assimilation, and (re)conciliation, at the Mackenzie Art Gallery in Regina (2015). Recent essays include: From Indian to Indigenous: Temporary Pavilion to Sovereign Display Territories. In Search of Expo 67. 2020. Electric Beads: On Indigenous Digital Formalism. Visual Anthropology Review. 2018. Garneau has given keynotes in Australia, New Zealand, the United States, and throughout Canada on issues such as: mis/appropriation; re/conciliation; public art; museum displays; and Indigenous contemporary art. His performance, Dear John, featuring the spirit of Louis Riel meeting with John A. Macdonald statues, was presented in Regina, Kingston, and Ottawa. David recently installed a large public art work, the Tawatina Bridge paintings, in Edmonton. His paintings are in numerous public and private collections.
A Small and Quiet Winter Screen is presented with the assistance of Visual Arts Technician Jesse Goddard, Theatre and Scene Shop Technician Mason Roth, Theatre Instructor William Hales, Theatre Wardrobe Technician Cathy Mearns, and Jeff Meldrum.