An overwintering program of looping artworks, screened periodically from about sunset starting November 22 through spring 2022.
University of Regina campus, my studio window, visible from the plant conservatory and outdoor path to the Academic Green, between the Education and Riddell Centre buildings at ground level..

Pretty, pretty, who needs flowers? by Terri Fidelak
and
The Arrangement by Nic Wilson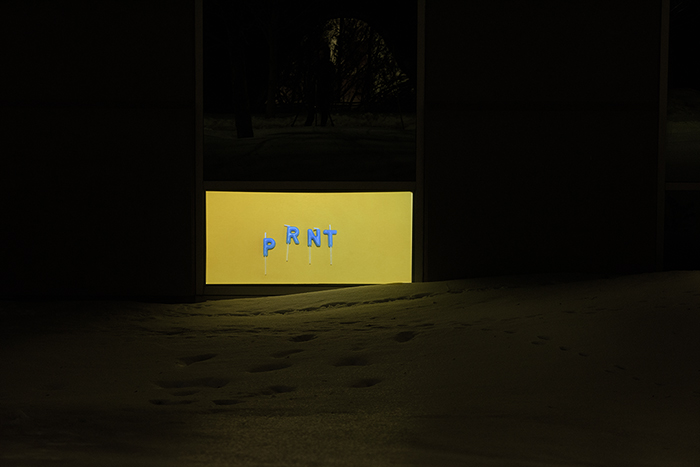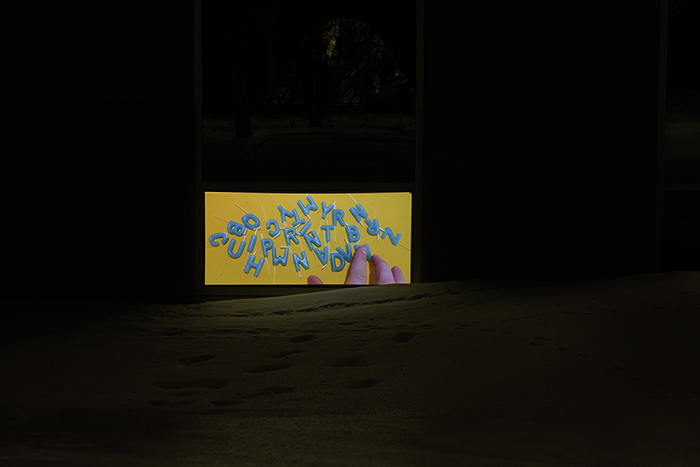 The Arrangement comes from the frustration and burnout of writing and the limits of language. On one hand it is a sketch to fill time between flurries of intention and on the other it is an earnest brush with the ineffable. In the video, I struggle to make something out of letters, knowing what I really want to do is set them on fire. The warmth and excitement has the potential to make language liquid but it also runs the risk of becoming the worst kind of nothing. I want to find a new shape made of the old ones.
Nic Wilson (he/they) is an artist and writer who was born in the Wolastoqiyik territory also known as Fredericton, NB in 1988. He graduated with a BFA from Mount Allison University, Mi'kmaq territory, in 2012, and an MFA from the University of Regina, Treaty Four Territory, in 2019 where he was a SSHRC graduate fellow. In 2021 they were long listed for the Sobey Art Award as a representative of the Prairies and the North. They have shown work across Canada and in Italy, including projects with the Remai Modern in Saskatoon, the Art Gallery of Regina, Art Souterrain in Montreal, and International Performance Art Week in Venice.
Fluent across media, Wilson creates videos, performances and artist books, and writes essays and art criticism.Their work often engages time, queer lineage, decay, and the distance between art practice and literature. Their writing has appeared in publications such as BlackFlash Magazine, PUBLIC, Peripheral Review, NORK, Syphon, and Border Crossings. In 2022 they where the writer-in-residence at G44 Centre for Contemporary Photography in Toronto.
Pretty, pretty, who needs flowers? Is a looped video piece that captures a cumulative performance where beauty, luxury, waste, and vulgarity are entangled. A series of individuals wearing the same shade of red lipstick enact the ritual of smoking a cigarette. Each cigarette is eventually extinguished into the heart of some fresh, decadent dessert. Inspired by a lived memory from a decade past, this piece roots into the tensions between privilege, class, and an appetite for more. Focussing closely on sensorial details - parting lips, flicking fingers, the moist sizzle of a surrendering pastry - the work stimulates simultaneous delight and revulsion.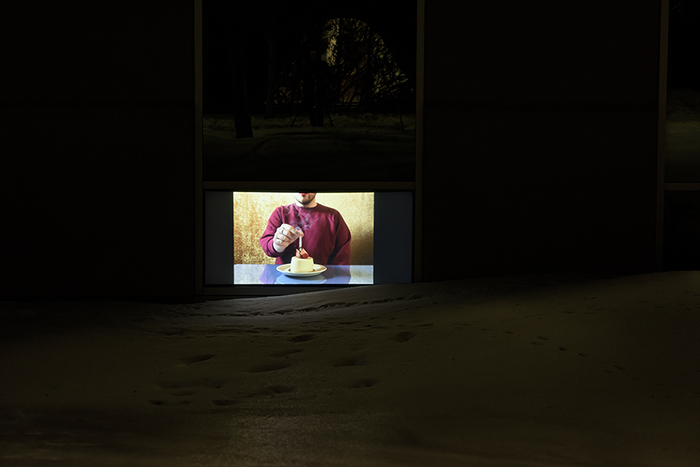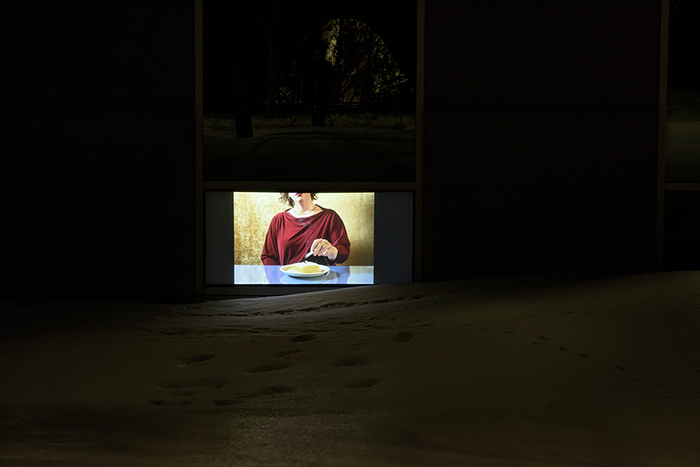 Terri Fidelak is an intermedia artist who uses sculpture, installation, and social practice to question how attention and value are interconnected. In particular, her work explores the intricacies of human relationship to that which is easily disregarded, whether that be endemic flora or the ephemera of lived experience. She has participated in various artist residencies, including at the Saskatchewan Legislative Building; at Medalta International Artist Residency; at White Rabbit Arts on the Bay of Fundy; and in the Oregon Cascades with Signal Fire Arts, to name a few. Her work is among SK Arts' Permanent Collection and private collections in Canada, the US, and Japan. Fidelak lives and works on Treaty 4 land in Regina, Saskatchewan.
A Small and Quiet Winter Screen is presented with the assistance of Visual Arts Technician Jesse Goddard, Theatre and Scene Shop Technician Mason Roth, Theatre Instructor William Hales, Theatre Wardrobe Technician Cathy Mearns, and Jeff Meldrum.