An overwintering program of looping artworks, screened periodically from about sunset starting November 22 through spring 2022.
University of Regina campus, my studio window, visible from the plant conservatory and outdoor path to the Academic Green, between the Education and Riddell Centre buildings at ground level..

Kitchen Semiotics by Randy Lee Cutler
2011, performance video, 15:47
and
Alimentary Passage by Randy Lee Cutler
2009, video, 9:30
Seed & Crawl by John Boehme
2022, digital animation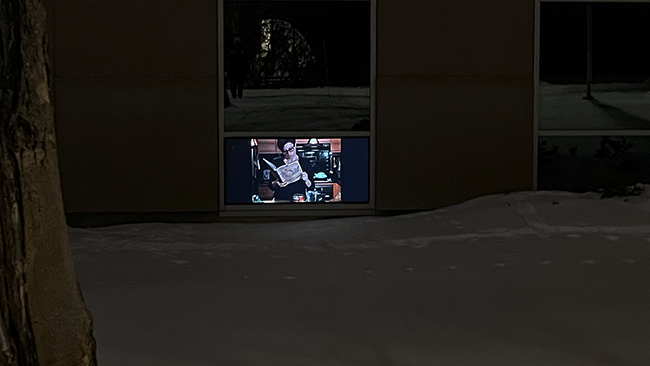 Kitchen Semiotics, a durational performance video, is staged in the artist's kitchen. Cutler proceeds through the alphabet consuming a food and drink for each letter. As she nibbles, chews, and samples her provisions, a voice over offers political, geographic or cultural information that sheds light on global food trends. For example, the letter A; "The avocado has been cultivated in Central America since 5,000 BC. The Mayans believed the avocado had magical powers and was an aphrodisiac. The name comes from the Aztec word for this fruit ahuacat, which means "testicle." Inspired by Martha Rosler's 1975 video Semiotics of the Kitchen while reflecting contemporary concerns, this work draws on performance, duration and a desire for the viewer to re-examine their own relationship to food and embodiment encouraging a critical consciousness of consumption.
Alimentary Passage is an experimental video essay that explores digestion as a metaphor for experience, a figure for relating to and being in the world. While digestion starts in the mouth, the absorption of nutrients begins with the growing and distribution of food. In this video, consumption and absorption are mapped onto the highways and byways of the city. Inundated with information about food whether bio-chemistry, crop hybridization, cooking shows, slow food or 100 mile diets, the endless flows of sustenance are present in the diverse tributaries and invisible passages of urban space. More than a biological process digestion is a condition of change itself.
Taking the form of artist books, collage, installation, performance, printed matter, sound works, video and creative/critical writing, Randy Lee Cutler's practice weaves together themes of collaboration, materiality and intuition. Working with research on temporality and geopolitics, she is fascinated with the intersection of matter and metaphor. Her work has been presented at Wil Aballe Art Projects 2021, Biennale of Sydney NIRIN 2020, Belkin Art Gallery 2019 (UBC Outdoor Artwork), 7a*11d International Performance Art Festival 2016, among others. She will be showing a new project, DeepTimeRadio at the Into Nature Biennale (Drenthe, Netherlands) in 2023, Randy is a Professor at Emily Carr University on the unceded Coast Salish territories also known as Vancouver, Canada. https://randyleecutler.com/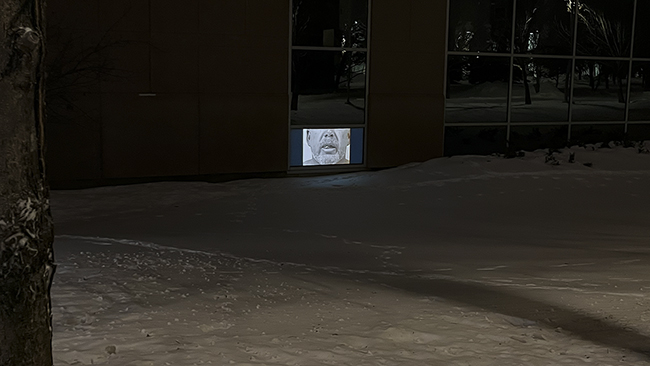 The physicality of a colourless bearded, compressed & truncated male image spreads the discarded seed shells directly at the viewer while the colourful crawlers' cascade down his grey visage.
John G. Boehme identifies as a cisgender white male of German and Scottish heritage in Victoria, BC, Canada, the Lekwungen speaking homeland of the Esquimalt, Songhees peoples. Boehme describes recent work as "trans-disciplinary," often employing performance, video, audio and objects in a number of pieces simultaneously; Boehme is not constrained to any particular creative mode and therefore utilizes integrated approaches to realize the work. John continues to have exhibitions, screenings and participates in festivals across Canada, Australia, the Americas, the United Kingdom, Europe and China. John is an Artist and Educator, teaching Performance Art, Ceramics and Sculpture as a continuing faculty of the Visual Arts Department at Camosun College. Live artwork presents a direct relationship with material, with action and process, with human interaction, as I understand it. Physical involvement is the most embodied way in which to create meaning. Through durational works, both the artist and the audience gain access to the experience uniquely available through such commitment. This is, of course, the archetypal modality of performance art, an experience that unfolds through an extended period of time. Nothing can replace that learning, that specific duration of being.
He notes: "Although there is no alternative to the durational aspect of performance per se, I remain interested in the question of the representation of performance. The very clear and obvious problem of making the ephemeral available to a larger audience at a different time. Using video to "reconstruct" an event makes publication and discourse possible. Despite its material concerns, I believe that art is rendered ultimately in the social domain.""
https://johngboehme.weebly.com/

A Small and Quiet Winter Screen is presented with the assistance of Visual Arts Technician Jesse Goddard, Theatre and Scene Shop Technician Mason Roth, Theatre Instructor William Hales, Theatre Wardrobe Technician Cathy Mearns, and Jeff Meldrum.