An overwintering program of looping artworks, screened periodically from about sunset starting November 22 through spring 2022.
University of Regina campus, my studio window, visible from the plant conservatory and outdoor path to the Academic Green, between the Education and Riddell Centre buildings at ground level..

The Crossing (2019-2020) by Kathleen Hearn
The Crossing (2019) by Risa Horowitz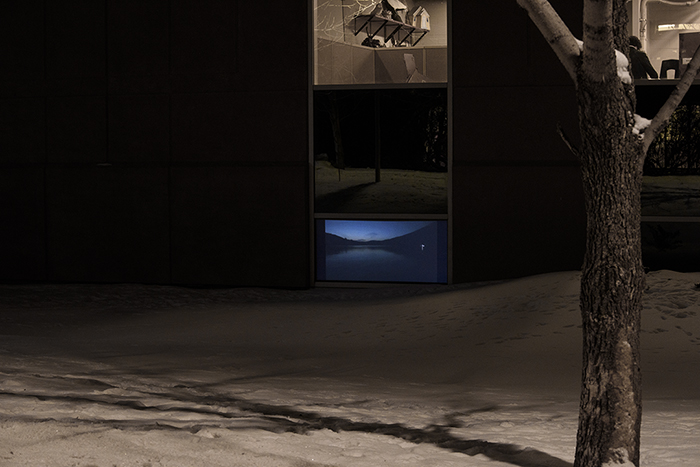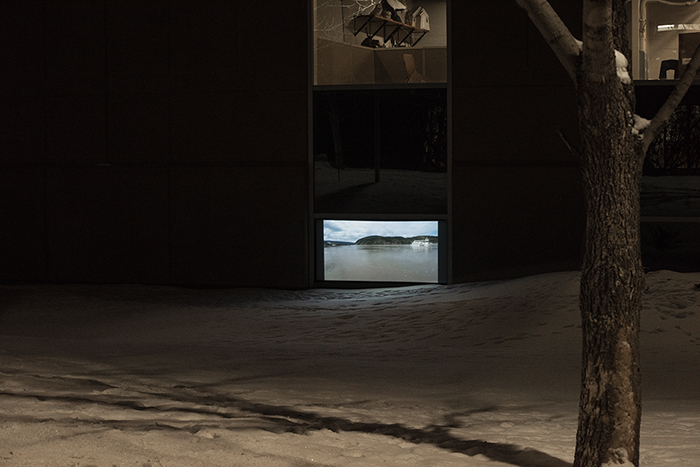 The Crossing (Hearn) is real time video of the landscape and ferry connecting East and West Dawson. The camera observes the passing time of the river, the time of the land, the time of the day, and the time of the ferry. Rocks quietly stand still, the river moves, the light fades and the ferry goes back and forth. We wait while watching. In the work I am interested in time, time's plurality, and our awareness of it. The work is part of an ongoing investigation into the use of time, soliloquy, and landscape as interlude in Virginia Woolf's experimental novel The Waves.
This work was made with the generous support of the Canada Council for the Arts and as part of a two-season residency project with the Klondike Institute of Art and Culture in Dawson City, Yukon.
The Crossing (Horowitz) is real-time video from aboard the ferry connecting East and West Dawson, taken on June 18, 2019. Risa Horowitz was artist in residence at the Klondike Institute of Arts and Culture just weeks prior to Kathleen Hearn attending the same residency.
Kathleen Hearn is a Toronto-based director, visual artist and educator. Her practice involves long-term negotiations, collaborations and co-operations, often working with teens to give voice to their own representations. Her projects explore connections between portrait and landscape, documentary and fiction. Hearn's work has been exhibited across Canada, and at international venues in countries including: Argentina, Iceland, Senegal, Benin, Nigeria, Cuba and Paraguay.
https://www.kathleenhearn.com/

Risa Horowitz is Associate Professor in the Department of Visual Arts, Faculty of Media, Art, and Performance. Blurring boundaries between expert-amateur, hobby-work, and leisure-productivity, much of her work involves collecting and durational practices that pay attention to time and its representation. Horowitz has exhibited widely in Canada and abroad, with works held in public and private collections. She is currently a Research Fellow with the University of Regina Humanities Research Institute. Her works for A Small and Quiet Winter Screen are part of her workshopping of materials for the HRI project, Urban Erratics, Piles of Things, and Other Landscape Observations.
A Small and Quiet Winter Screen is presented with the assistance of Visual Arts Technician Jesse Goddard, Theatre and Scene Shop Technician Mason Roth, Theatre Instructor William Hales, Theatre Wardrobe Technician Cathy Mearns, and Jeff Meldrum.