An overwintering program of looping artworks, screened periodically from about sunset starting November 22 through spring 2023.
University of Regina campus, my studio window, visible from the plant conservatory and outdoor path to the Academic Green, between the Education and Riddell Centre buildings at ground level..

Three works b Jillian McDonald
Sweet Spot (2021)
video, 38 minutes
An inter-species caress in all the sweet spots. Filmed in Scotland and New York State.
A Drink with Nick (2019)
video, 44:09 minutes
It's cold outside. We draw you near, in flannel, denim and a crackling fire. Fires are for sharing, every woodsman knows. The artist trespasses digitally into a yule log whisky ad starring Nick Offerman.
Crystal Lake (2017)
video and animation, 48 minutes
Speculative fiction re-wilds the Georgian Bay biosphere, where humans are replaced by giant crystals, glowing pools, and mirrored surfaces.
Funded by the Georgian Bay Land Trust King Family Bursary.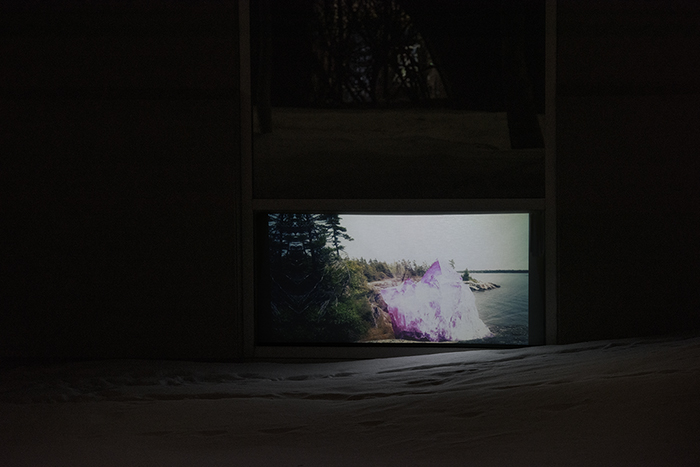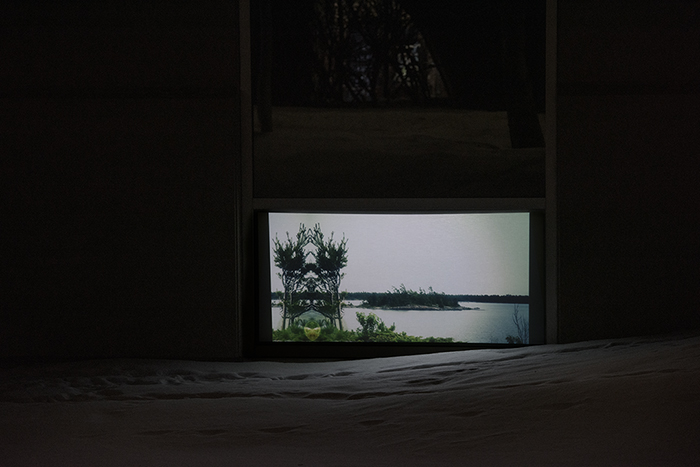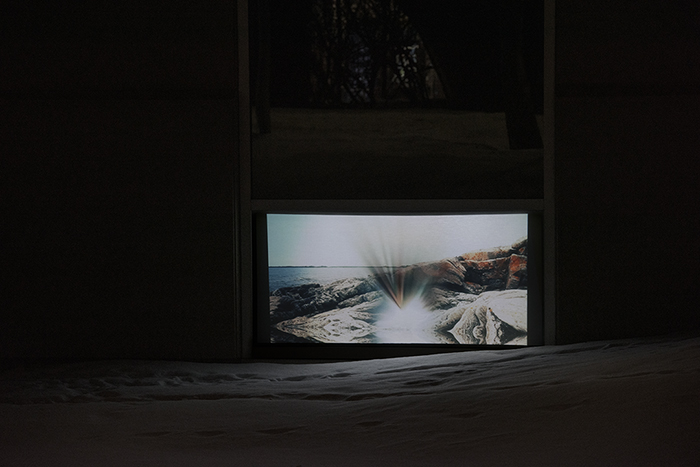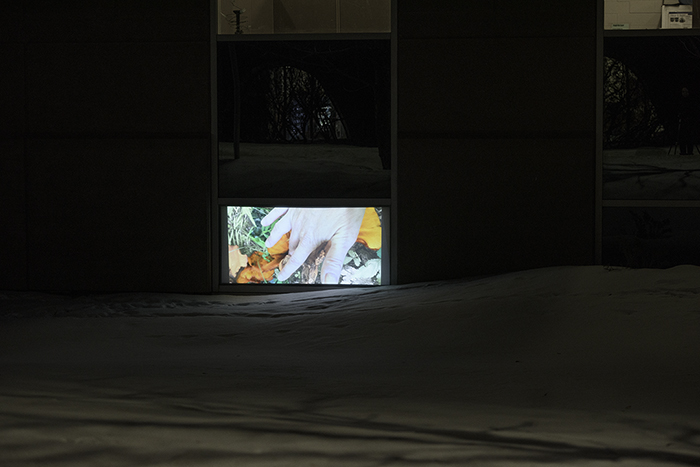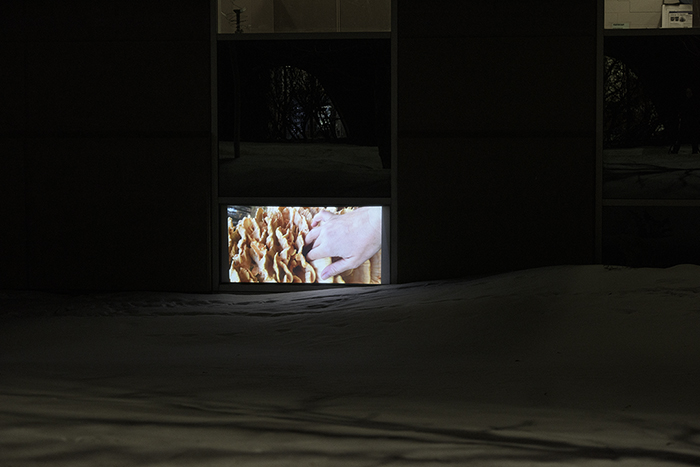 Jillian McDonald is a Canadian artist living in Brooklyn and Troy, NY
http://jillianmcdonald.net
Exhibitions include Undercurrent and FiveMyles in Brooklyn, The Art Gallery of Regina in Saskatchewan (in collaboration with Linda Duvall), Esker Foundation in Calgary, and AxeNeo7 in Quebec. A CBC IDEAS documentary profiles her videos, which were also reviewed in The New York Times and Canadian Art. Critical discussion appears in The Transatlantic Zombie by Sarah Lauro and Deconstructing Brad Pitt edited by Chripstopher Schaberg. Awards include grants from The New York Foundation for the Arts and The Canada Council for the Arts, and residencies at Glenfiddich in Scotland, Lilith Performance Studio in Sweden, and The Arctic Circle in Svalbard.
Listen to the CBC IDEAS documentary
A Small and Quiet Winter Screen is presented with the assistance of Visual Arts Technician Jesse Goddard, Theatre and Scene Shop Technician Mason Roth, Theatre Instructor William Hales, Theatre Wardrobe Technician Cathy Mearns, and Jeff Meldrum.