An overwintering program of looping artworks, screened periodically from about sunset starting November 22 through spring 2022.
University of Regina campus, my studio window, visible from the plant conservatory and outdoor path to the Academic Green, between the Education and Riddell Centre buildings at ground level..

Various Urban Landscape Studies by Risa Horowitz
2021-2022, HD video
Lovers Walk Xwáýxway
Winnipeg Floodplain
Not the Greenbelt
Chantry Beach Dig by Andrew Wright and Risa Horowitz
2011, documented action, HD video, 5:04 (early cut)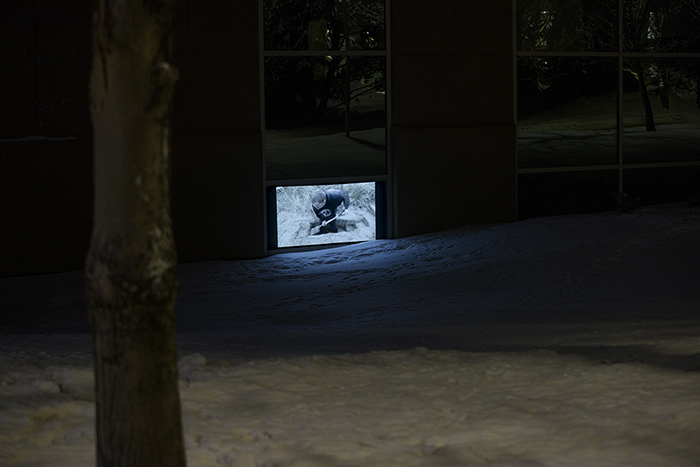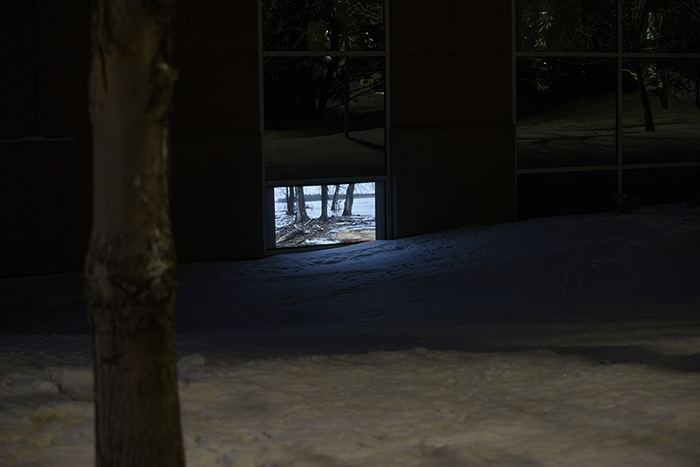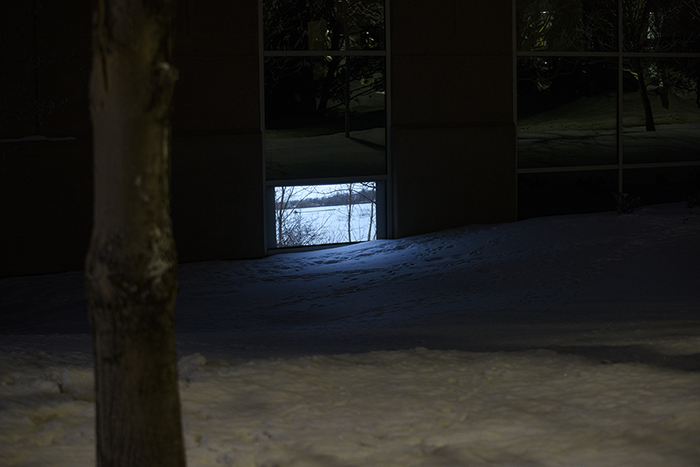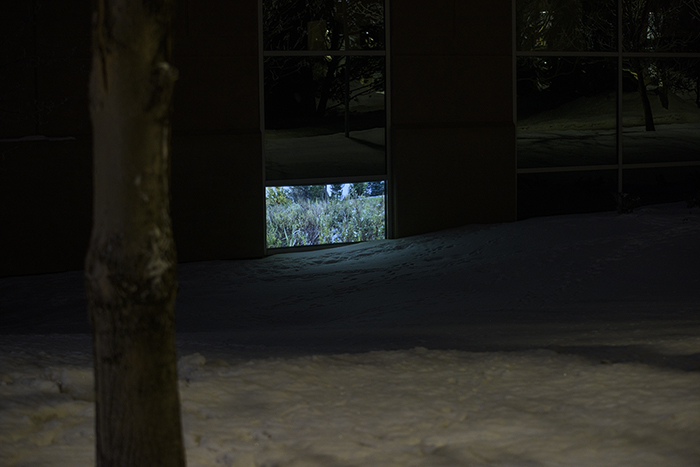 In Fall 2021, Andrew and I spontaneously dug a hole of sorts on the shores of Lake Huron. We unearthed the steps down to where the beach was when Andrew was a kid - the planting of native grasses has brought back the dunes, over 30-40 years. We talked about a lot of things that morning...childhood memory (Andrew recalled 14 steps; alas there were only 9); unearthing in relation to land, artefact, claim (the beach is adjacent to the Saugeen Nation's ongoing land claim), poured concrete; physical fitness; lens obsession; other diggers in art and other.
Andrew Wright creates conceptually informed works in many media, and has been preoccupied with using photography in traditional and decidedly non-traditional ways for close to three decades. Wright has exhibited widely in Canada and abroad, and his works are in the collection of the National Gallery of Canada, Ottawa Art Gallery, and at Canada House, Canada's High Commission in London. He is the recipient of the 2019 Karsh award for outstanding and significant contribution to the discipline of photo/lens-based art, and is a Full Professor of Visual Art at the University of Ottawa. www.andrewwright.ca
Risa Horowitz is Associate Professor in the Department of Visual Arts, Faculty of Media, Art, and Performance. Blurring boundaries between expert-amateur, hobby-work, and leisure-productivity, much of her work involves collecting and durational practices that pay attention to time and its representation. Horowitz has exhibited widely in Canada and abroad, with works held in public and private collections. She is currently a Research Fellow with the University of Regina Humanities Research Institute. Her works for A Small and Quiet Winter Screen are part of her workshopping of materials for the HRI project, Urban Erratics, Piles of Things, and Other Landscape Observations.
A Small and Quiet Winter Screen is presented with the assistance of Visual Arts Technician Jesse Goddard, Theatre and Scene Shop Technician Mason Roth, Theatre Instructor William Hales, Theatre Wardrobe Technician Cathy Mearns, and Jeff Meldrum.